Travel Log
Autumn Tours 2017
Laura , her husband and friends from USA

David and his friends from Florida

Helen, her husband and friend from Australia

Cheryl and her friend from USA

Ranjam and his family from Sri Lanka

Jason and friends from USA

Derek , Rob and I had a wonderful visit to Scotland and our tour with you was the highlight of our trip. We can't thank you enough for sharing all of your incredible knowledge of Scotch Whisky (not to mention all the great extra tidbits about Scottish culture and history) with us! We feel much more confident in our understanding and appreciation of the distillation process and product. We are already thinking about planning another trip to Speyside, so we can learn even more from you.

Rob and Gerri from USA / Germany

Rob and Gerri from USA / Germany

Swiss group of friends in suitable attire !
---
Summer Tours 2017
Stan and Carla from Canada

Jo and Doug from USA

Lisa and her family from USA

Heath and Linda from USA

John and Sheree from USA

Patrice and her friends from USA

Steve and Jennifer and friends from Canada

Jim and Megan from UK enjoying a private tasting at Benromach

David and his father from USA
---
Early Summer Tours 2017
Jose Luis and friends from Florida

Vivek and Vidya from USA

Mike and Nadia from USA - 3 day tour

Peter and Tina from Germany

Manu and friends from USA/div>

Brazilian group of 11 on a three day tour
---
Springtime Tours 2017
| | | |
| --- | --- | --- |
| | | |
| Matt and Aaron from Canada | Michelle and her colourful friends from USA | Libby and her friends from USA |
| | | |
| Claire from Australia | Russ and friends from USA | Alexey and Lihya from Russia |
| | | |
| Urac and Sebnem from Turkey | | |
---
A bit of a departure from whisky tours - Balmenach Distillery now incorporates the Carounn Gin Distillery which was a port of call on tour with Yura san from Tokyo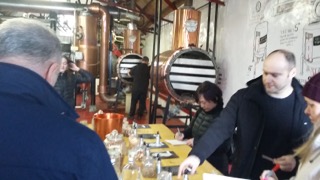 Carounn Gin Distillery
---
Nice day touring Speyside distilleries with Dorianne and her three friends from Canada - seen here at the Macallan tasting.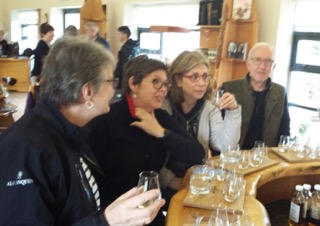 Dorianne & Friends
---
Beautiful April weather for our whisky tour with Richard and his father from Switzerland - seen here at the 16th century Packhorse Brig near Glenlivet.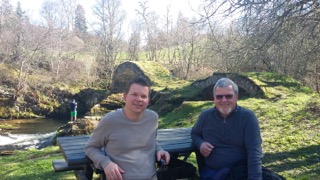 Richard & Father
---
A lively three day all encompassing tour with Chad, Cara and Ryan from Nevada " Dear Derek, just wanted to say thank you for creating memories I will enjoy and talk about for the rest of my life. You are an amazing person and very humble. I am thankful to have met you and hope I will be able to in the future - Chad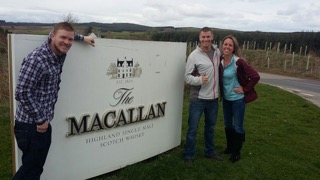 Cara and Ryan from Nevada
---
Autumn Tours
Sue and Robert visited from Hawaii and based themselves in Ballater. We enjoyed two days of touring which not only covered distilleries but also Balmoral castle. Seen here enjoying a dram near Braemar.
"Thank you so much for your time, expertise and hospitality, we love what we have seen so far. Derek, Robert learned so much more about Scotch and Scotch production and is eager to go home and try what he has learned. We wish you the best in your tour business - you are a great ambassador of Scotland and the Scotch industry - Much Aloha - Robert and Sue "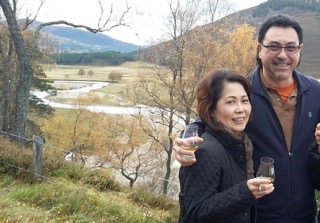 Sue and Robert
Renato and Chris also travelled a long way from Brazil but enjoyed our cold but sunny November weather. Seen here at Glenfiddich Distillery, one of five distilleries visited over a two day tour.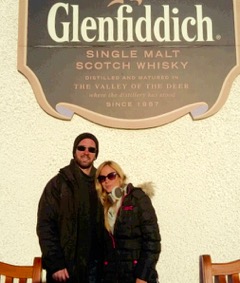 Renato and Chris
---
A very busy summer in Speyside
Here is a selection of my guests who I have enjoyed showing beautiful Speyside and its distilleries in super weather over August and September. click on the small image to display a larger image "Thanks Derek - we really enjoyed ourselves and learned a lot" Mark & Linda, Los Angeles
Dorota and her husband said:
Dear Derek, We wanted to thank you for the fantastic whisky tour we experienced with you in August. Your tremendous knowledge of all facets of whisky, the Speyside, Scottish history and more is truly outstanding and combined with your humble personality make you a true gem of a guide. It was a real privilege and we highly recommend that any whisky lover should try to share it at least once in a lifetime!
---
Early July 2016
Well travelled friends Teddie and Karen from USA visited Scotland for a few days, and I was able to give them a taste of Speyside in one day. Glenlivet , Cragganmore, Highland Cattle and Findhorn Bay were among the stopping off points.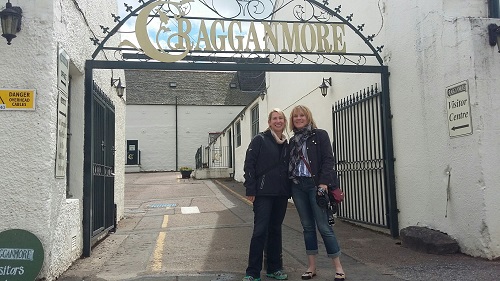 " Thanks !! it was a great tour. We had a good time and learned a lot. Derek is a great guide. Highly recommend this tour"  Teddie Bridget Proctor.
"Fabulous day out!. I could not complement or recommend Derek enough. Thanks Derek ! - Karen Ann.
---
Late June 2016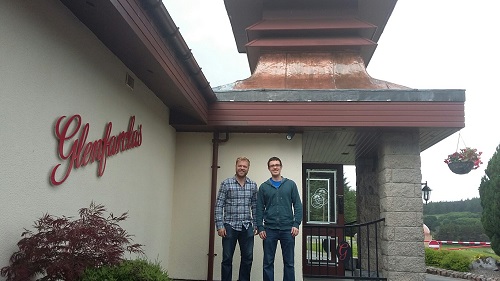 Had a good day with Peter and Matt from USA. Visited Cragganmore, Glenfarclas, then onto Glenfiddich. "We had a blast" - was their parting comment.
---
Ian and Hamish - Canada
Early June I had a "grand tour of Scotland" with Ian and Hamish from Canada. This was much further afield that my normal territory, however it was a great adventure. From Glasgow to Islay, Oban, Skye, Speyside and return via Dalwhinnie - six action packed days.
| | | |
| --- | --- | --- |
| | | |
| Ian and Hamish at Laphroaig, Islay | Enjoying a dram at Eillen Donan Castle on route to Talisker, Skye | Derek thanks Hamish at the last distillery - Dalwhinnie |
"Interested in whisky and wishing for travel to a magical space?
'SpeysideWhiskyExperience.com' has a solution which coddles you through the best of this Scottish side of the world, refreshing every step of the way. Relishing an occasional tipple to contemplate the merits of a peaty Islay or a mellow Speyside, Derek Hancock (former Export Manager of Gordon & MacPhail of Elgin, Scotland) after more than 40 years in the whisky business, showed us the way. Six days in company with Derek flashed by as we put up our feet and sampled our way through some of the world's finest single malts. Met at the grey dawn in Glasgow arrivals and whisked into the Highlands, Derek's encyclopedic knowledge of whiskies concomitant with his easy personality matched our needs and exceeded every expectation for our wonderful Scottish venture. Highly Recommended! Father & Son - Ian & Hamish Cowan - June 2016."
---
Lily from Vancouver
Mid June I had a full day touring with Lily from Vancouver. We visited the Gordon & Macphail shop, Strathisla, Glendronach and Fyvie Castle.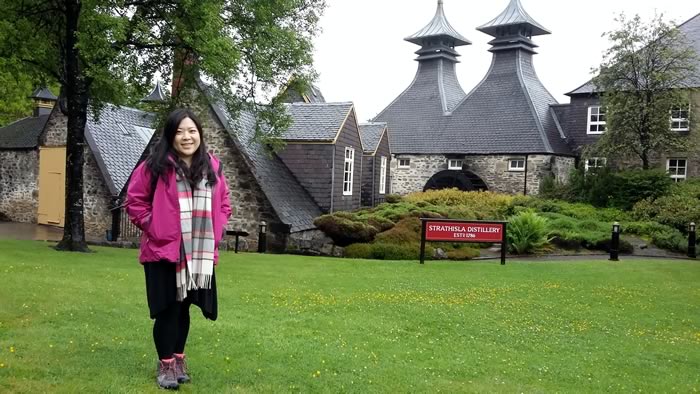 Lily at Strathisla
---
GluGlu2000 Whisky Club
Late April to coincide with the Spirit of Speyside Whisky Festival, Mauro Leone and members of his "GluGlu2000" Whisky Club from Como, Italy arrived in Speyside for a few days as part of a longer tour. By the way, GluGlu refers to the sound of whisky being poured from a bottle ( in English we would say glug glug ! ).
Mauro had put together a long list of distillery visits, including an interesting section "Chasing Ghosts" when we visited the sites of long lost distilleries and had a dram of that whisky on the site ( imagine us in the car park of a Co-op store in Inverness - Glen Albyn )
Distilleries visited included Clynelish ( and Brora ), Glenmorangie, Glen Ord, Dallas Dhu, Dalmunach ( special arrangement ), Ballindalloch, Auchroisk ( SOSWF Dinner ).
We also paid homage to quite a few others by having a dram and a special biscuit made in Italy to match each distillery style in the car park or previous site - Royal Brackla, Teaninich, Balblair, Invergordon, Glen Albyn, Glen Mhor, Millburn, Benrinnes, Glenallachie, Craigellachie, Caperdonich. Quite a list !
PS - I only had the biscuit
| | |
| --- | --- |
| | |
| The group at a chilly Clynelish Distillery ( and Brora ) | Derek thanks Mauro at Glen Ord Distillery |
For more information see www.gluglu200.it

---
Waldhaus am See Hotel in St Moritz
In early May I was happy to welcome a group of four from the hotel Waldhaus am See in St Moritz, Switzerland. This hotel includes one of the world's top whisky bars - The Devil's Place, which has entries in the Guiness Book of Records as having the biggest selection of single malts. The current General Manager and owner, Sandro Bernasconi with his deputy Felix and two key staff wanted an in-depth insight into the Speyside Distilleries which they offer at the hotel. I was pleased to oblige with information and visits to Glenlivet, Glenfiddich, Glenfarclas, Glen Grant, Benromach and the Speyside Cooperage. In between visits they enjoyed lunches and dinners at the Mash Tun, Aberlour , Glenfiddich cafe and The Drouthy Cobbler pub in Elgin.
| | |
| --- | --- |
| | |
| The group at Glenlivet Distillery | A special treat of a VIP visit to the "secret whisky safe" in Glen Grant gardens. |
| | |
| Derek says thanks to Sandro at Benromach Distillery | To finish off the tour we enjoyed a dram at the coast ( Findhorn Bay ) |
For more information see www.waldhaus-am-see.ch

For a completely unique Speyside Whisky Experience, contact Derek to discuss your Scotch Whisky expert escorted tour.